International Speakers & Availability
Training at Your Location
Be trained by true experts in the field of street gangs. Presentations range from keynote openings, one hour workshops to full day seminars. Powerpoint, video, discussion, question & answer, personal testimony and more. Learn about gang culture, gang identifiers, gang laws, gang psychology and more! Please contact us to discuss your needs and how we can help!
Presenters: Lisa Taylor-Austin, NCC, LPC, LMHC, CFMHE, LLC – Forensic Gang Expert Witness/Psychotherapist and Sean "Dino" Johnson – Director
Choose one of our interactive gang presentations:
Keynote: 2,000 Gang Members and Counting: Counseling America's Gang Involved Youth
Keynote: From Prison to Redemption: One Man's Story from Gang/Drug Leader to Healer
Gangs 101
Counseling Gang Members
Programming for Gang Members
Gangs in Court: Building a Gang Case for Trial – Attorney Training Only
Available for:
Professional Development
Gang Conferences & Gang Summits
Staff Training
Schools – public, private, charter
Community Agencies
Housing Authorities
Prisons, Juvenile Dentention Centers, Jails
Attorney Training Sessions
NEW! Unable to bring us to your location?
Purchase the "Gangs 101″ DVD
Featuring Lisa Taylor-Austin, NCC, LPC, LMHC, CFMHE, LLC
Length: One and a half hours
Style of the video: Lecture and PowerPoint
taped before a live audience

The video covers:
Identifying gangs
Statistics
Profile of a Gang Member
Laws: NYS, CT and federal
Levels of Gang Involvement
Types of Gangs
Why do people join gangs?
How do people get in gangs?
Former gang member's experience
Interview of Lisa Taylor-Austin
Suburban Gangs
Tattoos, Graffiti, Handsigns
Reading Suggestions
and more
Some of the places we have presented include:
Canada-USA Gang Summit
NY Conference Brochure
NJ Brochure
NYS Gang Summit
Lisa Taylor-Austin speaks to 500 delegates at the first Canada-USA Gang Summit

The audience listens to Lisa Taylor-Austin at the New York Gang Summit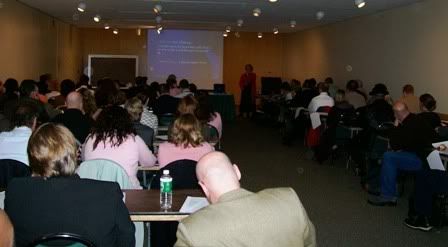 The audience listens to Lisa Taylor-Austin in New Jersey

Father Greg Boyle (Homeboy Industries) and Lisa Taylor-Austin – March 2007

Lisa Taylor-Austin & LouAnne Johnson (played by Michelle Pfifer in Dangerous Minds) – November 2009